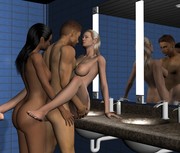 1. Virtual Date with Amy – Introduction and further development of relations with Amy and her friend – the first game of Tlaero & Phreaky.
2. Virtual Date with Jessica – Dating, flirting, and if you're lucky, sex with Jessica – the second game of Tlaero & Phreaky
3. Virtual Date with Keeley – We meet a new colleague – Kelly, and close friends with her, and her virtues.
4. Virtual Date with Christine – hot stuff Christine takes you into the world of sex and forbidden pleasures
5. Life With Keeley – You were married to Kelly, and then came the moment when you need to diversify their relationships.
6. You meet with Christine, a girl from the previous game.
7. Daydreaming with Keeley – this time, a variety of intimate relationships couples none other than as a friend Kelly – Keisha.
8. Coffee for Keisha – It's time to pay attention to Keisha, the girl with whom you and Kelly having fun in the shower.
9. Dreaming with Elsa – This time, we plunge into the world of erotic dreams and relationship with Elsa, the first large-format game from Tlaero & Phreaky.
[Write if you have questions]