Tags:

all sex

,

Anal Sex

,

austinhaney6969

,

blowjob

,

cumshot

,

dickgirl

,

erotic lingerie

,

facial

,

flash game

,

handjob

,

porn flash game

,

porn game. sex game

,

sexy girl

,

t-girl

File size:222 Mb

Pages:0Views: 1757

Posted by:

admin




Date: March 2019
Version: 0.4.0
Language: English
Censorshipe: No
You play as a young effeminate college student who is easily bored. You meet a woman who will definitely spice up your life, but will it be in the way you wanted?
Changelog:
Here's what I've added.
5+ Scenes with Lexi.
5+ Scenes with Bailey
5+ Scenes with Sasha
5+ Scenes with Riley
1 completely new animation
1 animation re-drawn
1 new outfit
1 new top
(both of those articles of clothing are only available from a few select scenes for now, but will be very much available later on.)
I've gone back and added about 10 random events to the "browse the web" and I plan to add more over time, with a few ultra rare ones thrown in. The goal is to wind up with 50-100 by the end of the year.
I've also increased the amount of videos that can play at the gloryhole (I've increased the number from 3 for each action, to 10).
(I plan to re-write/re-design the system, but the U.I. stuff just isn't there yet.)
I've introduced a new character, you'll meet them if you play Baileys route.
Note: As for U.I. stuff, It's still very much a work in progress, but I can to make things less, well, ugly. I think I've gotten everything to work in my test build, but I figured it's best to err on the safe side and give you guys graphical updates after extensive testing.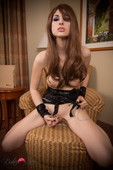 [Write if you have questions]