Date: 2019-10-03
Version: 6.2
Language: English
Censorshipe: No
The Company is an AIF game set in the universe established by Wandrer on the ASSTR database, with his permission. This game focuses on the very early years of The Company, before it became what Wandrer made it into, and aside from the entity itself borrows little to nothing else from his works.
You choose your character's name and gender, and set off down a path of corruption, perversion and control. As the game progresses, you\'ll encounter more people to corrupt, and more ways to do it utilizing the various devices and drugs you'll develop in the Company laboratory
Game Features:
Dynamic gender system allows for player transformations over the course of the story
Play the game how you want, different routes yield different content. Don't like incest? Don\'t drug your family!
The game will change based on how you decide to play, and the ending can change drastically based on your choices
Limited time and resources mean you'll have to make choices as to what routes you want to pursue.
v6.2:
Content Updates
John's Bathroom Oral scenes have been completely reworked
New dialogue has been added to all variants of the scene
Willingly submitting to John now requires being Bimbo, Sissy, or have a preference for giving Oral
Now use the new Content Block system
Second Bathroom Oral scene (after being dosed) is now repeatable and (sort of) interactive
Overhaul to John's dose scene structure
Mostly backend, but you'll see some visual changes
Much more organized, though functionally the same
Will be applied to other characters moving forward
Implementation of John's Greeting content
Effective replacement for Comment system
John will greet you once a day the first time you interact with him directly
He will comment on character traits and changes of interest to him
Appealing to John's tastes can increase Relationship
Applies to "Nice John" and Chanel as well
Check out the associated DevBlog for more info!
Added new option to skip entire days to the game
Option only available in player's Room when selecting "Not first time playing"
Option only available on days where no story events take place
Will skip forward to Night
Added new option to skip to Evening on Friday, September 1st
John and Chanel image handling have been completely converted to utilize Image Packs!
New images have been added for John and Chanel
UI updates applied to significant portion of the game
Check Mirror scene has been redesigned to be slightly less horrible
Penny's "Lab Release" scene now uses Content Blocks (Whore Route)
Napping in Room now always passes 2 time units
Using Phone in Room now has its own scene
Achievement reward improvements
Achievements are still a huge work in progress
They will be getting a proper once-over in the not too distant future
System Updates
Removed HUNDREDS of superfluous story variables from game
You may need to clear your cache, but after doing so you should notice SIGNIFICANT performance improvements
This is still an ongoing process and will be further improved moving forward
I'm a bad… bad programmer
Preferences have been established for John and Chanel
Content Block infrastructure has been built for John's content
Update image handling to be more forgiving (not thoroughly crashing a scene) if an image is missing
Update Tracking functions to now adjust Preference updates
When an action is Tracked, the "performer" will have their preference for the action increased by 1, and the "recipient" if any will have their preference increased by 2
This is default behavior and can be overwritten where appropriate
This is how it was working previously, but now saves me having to write 3+ lines of code for every single tracked action!
New functionality for tracking story flags in code
New functionality for tracking/manipulating time elements in code
New functionality for handling NPC memory, recall, and comparison of player traits
Several structural updates made to scenes
Just getting old code up to date!
Fixes
Fixed possible duplicate Penny appearances at Noon in Chapter 1
Fixed "hiss" macro error
Fixed Ava's entries in Notebook not reflecting relationship status
Fixed missing UI elements and errors in Penny's Lab Sex scene
Several grammar/spelling/syntax fixes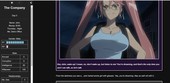 [Write if you have questions]