Tags:

2DCG

,

4MW

,

Bestiality

,

elf girl

,

fantasy

,

male protagonist

,

monster

,

monster girl

,

oral sex

,

renpy

,

sexy girls

,

vaginal sex

File size:110 Mb

Pages:0Views: 2367

Posted by:

admin




Date: 2019-03-29
Version 1.2
Language: English
Censorshipe: No
Overview:
Ravager is a game where you play a young dragon, determined to reclaim their birthright. To do so, you will need to build your power, ally with dark forces, evade justice, and whet your bestial appetites.
Changelog:
V1.2, "White Wyrmling"
Features
New 'friendly' scene added to the farmstead, which opens up a new narrative route with the farmgirl.
Fangirl's VA added to your first night together. Aww yiss.
Sabetha's VA added to the bastion encounter.
CGs will now display at the front of the scene, rather than behind it.
Side portrait framework added to desktop versions.
Option added to Preference menu to control when side portraits appear. By default, they will only appear during CG scenes.
Numerous small improvements to descriptions and dialogue in Chapter 1.
Tweaks
The difficulty of saving the huntress from the centaurs has been reduced.
You are now prompted if you start the game without enabling adult content.
You are now warned that Chapter 2 will finish when you find a lair.
Princess Adeline has been given a quick makeover.
Dialogue transitions and character placement have been standardised.
Fixes
Fixed broken sprite for Maelys.
Added credit for the avatars from rinmarugames.com. Whoops!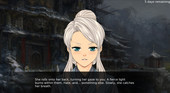 [Write if you have questions]