Release date: 23 March, 2019
Version 1.0a20
Censorship: NO
Platform: Windows, Linux, Mac
Publication Type: In Progress
Tablet: It isn't required
Language: English
In this game you will play a guy who is reconnecting with his female childhood friend. You will be managing your horniness which will influence which interaction options are available to you in any given situation. Too horny and you may find yourself unable to concentrate, not horny enough and you will be too shy to make certain suggestions, and might not pick up on as many fun distractions. You will also have other stats to build up to help you on your way such as Communication.​..
Changelog:
v1.0a19
Added first pass at game ending.
Currently only for the 'anal' choice.
Other choices are forced into this ending at present.
v1.a18
Added highlight to text for when Sarah is available in the gym.
Working at your desk without distraction now helps improve your concentration slightly.
Attempted some re-balancing of the OG story to fall into place at better times with the other girls.
Added OG Story 11: Special Delivery
Added OG Story 10: Childhood Desires
Added OG Story 9: Accommodation
Recoded OG Sext Session 2 in new code for consistency.
Added OG Sext Session 3.
Adjust rates for stat increases/decreases. Better chance of high end result.
Fixed bug in the Trip SMS that was referencing the normal SMS array
Added feedback text to the three downtown locations to give a better idea of how well the player did, and comment on anything that might be affecting the outcome
Added some catches for achievements to re-pop them if resetting the arrays on an old save.
Added extra random lunch and downtown images
Fixed Sarah's story line which failed to hit Story 8
Removed spurious text : Remove the sent SMS from the queue
Sarah's relationship with you will not lower when you help Jenny whilst Sarah is on vacation.
Adjusted the image code for random lunch events to ensure text appears below the image.
Fixed bad image code in one of Sarah's vacation texts
More fixes for old SMS entries. Should remove some errors in some of the OGs texts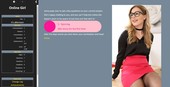 [Write if you have questions]