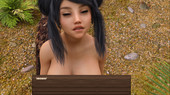 Date: 2020-10-29
Censored: No
Version: 0.0.4
Language: English
Overview:
Molest Hunter – is a adult role-playing game with turn-based battles, set in a fantasy genre. This game provides a ton of possibilities. You have to talk to characters, collect resources, create new clothes, complete quests and of course battle and fuck monsters and humans.​
v0.0.4
I completely overhauled the inventory system. Now any item can be stored in any slot. And use drag'n'drop to move.
Herbals and potions shop
Tons of new items
Craft system. Now you can combine items. Just drag one item onto another
2 new quests
1 new enemy. Forest Fairy.
3 new animations. (Fairy rape, masturbated and scissors)
Added new ui icons.
Added lists of combo
New clothes (Satyr suit from enemy Satyr's parts)
Map icons updated. Now you will immediately know when the resources in the gathering point are out.
Bugfix
Minor changes
FULL SUPPORT SAVE from 0.0.3 version.
[Write if you have questions]