Tags:

blonde

,

femdom

,

feminization

,

free sex games

,

humiliation

,

kinky game

,

lingerie

,

porn game

,

samcannis95

,

sex game

,

sexy girl

,

shower

,

sissification

,

underwear

File size:117 Mb

Pages:0Views: 3128

Posted by:

admin




Date: 2019-09-29
Censored: No
Version: 0.4.5 Preview
OS: Win
Language: English
u and your guardian have moved to a secluded town and you are attending a new school.
Everything appears idyllic and innocent until one looks behind the veil and dares to rebel against the strict rules.
Something is wrong with this town and even your guardian seems to change…
Themes: Feminization, femdom, sissification, humiliation
Note: You can change the title of your guardian as well as the most important names in "Menu/Personalize"
How to play:
Download Game
Extract the Zip-File. Navigate to the "Game" folder.
Open "Kinky Life Game.exe"
Set Graphics Quality to "Ultra"
Have fun!
v0.4.5 Preview:
Changelog:
– Julienne scenes
– New encounters and events at school
– New dream scenes
Spoiler/Hint: Horny > 50 advances "learn together".
Please note:
This is just a (stable) preview version of 0.4.5. Last minute crunch. I hope it's not too late and Patreons for August can still access it, even if I post it in the last minute.
(If it's September, but you've supported me in August, you can still see the August posts, right?)
Why is this not a "regular" update?
The preview has about twenty more pages of story and some new images. So it does have new content, but I've spent most of the time on other story parts, which I like in theory, but regard as too rugged as of now.
Feedback appreciated regarding the dream scenes.
Right now some of them "echo" previous scenes (same direction, but more extreme). It gives me more creative freedom (in a dream it feels less out of place, when the intensity increases dramatically, but then turns back in the 'real' arch), but I'm not sure if this is the right approach.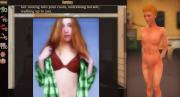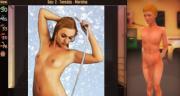 [Write if you have questions]