Year : 2016/10/14
Language games: English
Description:The game tells the story of the heroine named Hannah, while you/she suddenly become the Manager at the underwear store Underwear in a small beach Front town.
The owner agrees to find her a few of the girls to join her in the store, but this is your task to decide who can work in the store. Such decisions can be a daunting and exciting process.
Hannah must learn to cope with the management of the store, with its employees and making key decisions to ensure its success.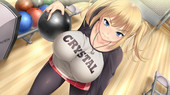 [Write if you have questions]