Date: Update Jan. 2019
Version: 0.10 offline
In order to get the latest version of the game, all you have to do is download a client, which, in turn, will automatically download all patches and update the game. You don't have to manually download new versions of the game, or download new patches, or install anything every time there's an update, the game will do it all for you.
Every time you start the game, it will check for available updates and if the game doesn't have some files, it will automatically download them from our server.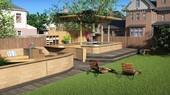 [Write if you have questions]