Tags:

3dcg

,

Big Tits

,

corruption

,

f.lord

,

fantasy fiction

,

handjob

,

incest

,

male protagonist

,

masturbation

,

milf

,

oral sex

,

renpy

,

sex

,

visual novel

,

voyeurism

File size:549 Mb

Pages:0Views: 1838

Posted by:

admin






Date: November, 2018
Version: 0.3.0f
Language: English
Overview:
The story is all about you (the player), an only man in this town. They don't really know what is happening with all of those men. It has been a long time since the last man was born. Until you! You were born and grow up in a small family with nothing special. Your life is moving in the linear direction with an extra boring in it until you've met with someone… Someone who will change your life forever!
I have to apologize for my poor English. I am not a native English speaker, but I'll do my best to make most of it understandable. Thank you to you all for the supporting!​
+ V.0.3.0f:
– Fixed Yasuko does not pay you in Evening.
– Fixed Hitomu & Namie event does not trigger (After visiting school a quest is end there)
+ V.0.3.0:
– Fixed minor bugs.
– Your maximum mana increases with your strength level.
– Now you don't have to make them show boobs to increase corruption.
– Re-worked the Taka water system scene.
– Added more Quests with Taka.
– Added Corruption level reactions for Airi and Momoko.
– Added Family dinner option.
– Bath with Momoko.
– Momoko's nightmare.
– Extra scene when Momoko sleeping alone in the living room (School uniform).
– Extra scene when peeking on Momoko in her room (School uniform).
– Sleepover in Airi's room.
– Erotic books for Red Witch.
– More sexy stuff for Red Witch.
– Event: Momoko & Kimiko art practice sessions.
– Event: Dark Fairy's plan.
– Event: Hitomu and Namie.
– Event: Kimika and Kimiko.
– Main-Quest: Training with Airi (2 Sessions).
– Extended Yasuko scenes.
– +780 Images.
– +46 Animation video loops.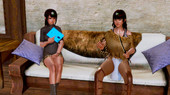 [Write if you have questions]